Chef Kevin Gillespie
President and Chief Ideas man
Contact:
General: Courtney Quinones, Assistant to Chef Kevin Gillespie
courtney@redbeardrestaurants.com
Cookbooks: Jaimee Constantine, Agent
Media: Melissa Libby, Public Relations
Donations:
Donations@redbeardrestaurants.com
Speaking engagements: JT Kounelias
TV and Commercial Inquiries: Max Stubblefield
stubblefield_m@unitedtalent.com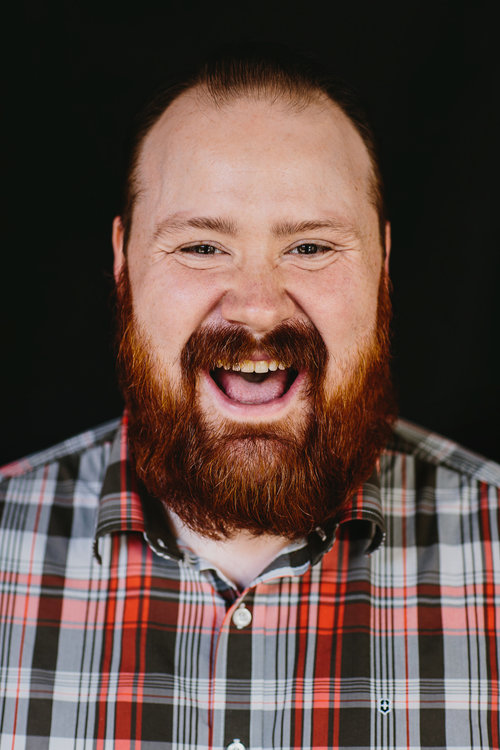 Kevin Gillespie grew up on Sunshine Circle in Locust Grove, Georgia surrounded by his large extended family where he watched his granny, Geneva Gillespie, cook each day. He fell in love with food and cooking at an early age but didn't decide to become a chef until high school. Wanting to become a nuclear engineer, Kevin applied to and was accepted by the Massachusetts Institute of Technology as a high school senior. Once he got over the initial shock of being accepted, he hid the acceptance letter from his parents, friends and college placement counselors so he could rethink his ambition to become a nuclear engineer. He eventually told his parents that he didn't want to go to MIT but instead wanted to go to the Art Institute of Atlanta and study cooking. His parents supported his decision and his mother told him it was good that he knew what he was meant to do early in life.
Kevin began his culinary education at the Art Institute of Atlanta and was determined to gain the experience he needed to become a successful chef. While carrying a full course load at the Art Institute, he worked part time at various restaurants perfecting his craft. After graduating with honors, Gillespie went on to hold different positions at several well-known Atlanta restaurants including chef de partie at Atlanta Grill at The Ritz-Carlton, sous chef at TWO Urban Licks and chef de cuisine at Woodfire Grill. He enjoyed his time at each of these places but found a true connection at Woodfire, where he originally stayed for two years. In August of 2006, Gillespie headed to the West Coast where he went to work as executive sous chef at Fife Restaurant in Portland, Oregon. After a year and a half there, he missed his family and friends in the South and returned to Atlanta. Gillespie came back to Woodfire Grill to continue to work for his friend and teacher Michael Tuohy.
In 2009 after Michael Tuohy departed, Kevin was promoted to executive chef at Woodfire Grill and was subsequently offered partnership in the restaurant. During Kevin's time at Woodfire Grill, the restaurant was featured on CNN, Travel + Leisure, Food & Wine, and Men's Health as a dining destination for visitors to Atlanta.
In addition to the partnership he achieved at Woodfire Grill, Kevin also earned a spot on Bravo's Emmy and James Beard Award-winning series "Top Chef" for the show's sixth season in Las Vegas in 2009. Proving to be a top contender by winning the most "Quickfire Challenges" and "Elimination Challenges" in the history of the show, he stood out as one of this season's final three chef-testants who competed for the "Top Chef" title in Napa Valley. Gillespie was also voted "fan favorite" by the viewers of "Top Chef." As a rising young culinary star in 2009, Kevin was named one of Mother Nature Network's top "40 Chefs Under 40" for linking farms to chefs and promoting better health for people and the planet. In February of 2010, he was honored as one of Gayot.com's "Top Five Rising Chefs" and named as a semi-finalist for the James Beard Foundation's "Rising Star Chef of the Year" award. A few months later, in June, Kevin was invited to prepare a meal at the James Beard House in New York City and was also featured on "Cooking with Emeril" on SIRIUS Satellite Radio. Later in 2010, Kevin was selected as a Celebrity Chef Ambassador for the Monterey Bay Aquarium's Seafood Watch program and received The Art Institute of Atlanta's Distinguished Alumni Award for his outstanding accomplishments in the restaurant industry. Kevin accepted the alumni award in December 2010 at The Art Institute of Atlanta's graduation ceremony where he also served as the commencement speaker. In 2011, he was again named a semi-finalist for the James Beard Foundation's "Rising Star Chef of the Year" award and nominated for Food & Wine's "The People's Best New Chef." Kevin has even been honored in cartoon form; in September 2011 he performed the voiceovers for his own character on the season premiere of "Squidbillies" on Cartoon Network's Adult Swim. In this episode, the main character is dying from asbestos exposure and gets three wishes granted, one of which is to have a meal prepared by Chef Kevin Gillespie. In November 2011, he served as a keynote speaker for the international conference of Les Dames d'Escoffier, a worldwide philanthropic society of professional women leaders in the fields of food, fine beverage, and hospitality. In December 2011, he was named one of Forbes' "30 Under 30" in the magazine's listing of tomorrow's brightest stars.
2013 was a very big year for Kevin. He opened his first solo restaurant, Gunshow, to critical acclaim, and was named a semi-finalist for the James Beard Foundation's "Rising Star Chef of the Year" award again and "Best Local Chef" by Georgia Voice in July. He hosted Co+op, Stronger Together's video series celebrating the 2012 International Year of Cooperatives. In this series, Kevin traveled to food co-ops across the country to share their passion for delicious food and their local communities. In addition to his fall book release, Gillespie was the featured chef in a Fine Food and Wine Cruise to French Polynesia in September, giving travelers an exclusive culinary travel experience.
In 2013, Kevin was chosen to be a member of Leadership Atlanta's LEAD Atlanta Class of 2013: a prestigious leadership development and community education program. Kevin was also included on Atlanta Homes & Lifestyle's list of "10 Under 40" for 2013. The magazine's list featured local tastemakers who continually make a positive contribution to the Atlanta community and make the city a better place to live. In May 2013, he appeared as a judge on the Destination America show SMOKED, where barbecue pit masters compete for ultimate bragging rights. For the second year in a row, he competed in the Kendall-Jackson Heirloom Tomato Festival chef competition and won. In 2014, Kevin was a contestant on Esquire Network show Knife Fight.
2015 marked the opening of Revival Restaurant, his heartfelt homage to Southern family-style suppers. The idea for this Southern restaurant was inspired by a conversation with his mother who had conceded to him that she and his dad hadn't been regulars at Woodfire Grill because the starched white linen tablecloths and fussy wine lists weren't exactly their style. The summer of 2015 ushered in Red Beard Restaurants and the parent company that oversees the entire operation, restaurants, events, merchandise, etc.
2016 Kevin was nominated as a finalist for the James Beard Award for the Best Chef Southeast. Southern Living named Revival one of "The South's Best New Restaurants" and Kevin built a German-style beer garden in Revival's backyard called Communion. It is a place where friends and neighbors can meet and share a drink, a snack from our food truck or play a game of horseshoes together. Kevin is the author of two acclaimed cookbooks: James Beard Award-winning Fire in My Belly, and Pure Pork Awesomeness. He is a member of Slow Food Atlanta, Southern Foodways Alliance, Community Farmers Markets Chefs Advisory Board, Georgia Organics and the Society for the Preservation of Traditional Southern Barbecue.